£

55.00
Sketching Day - Saturday 11th May 2024 - "Blue Bells and Birdsong" - High Vinnalls, Shropshire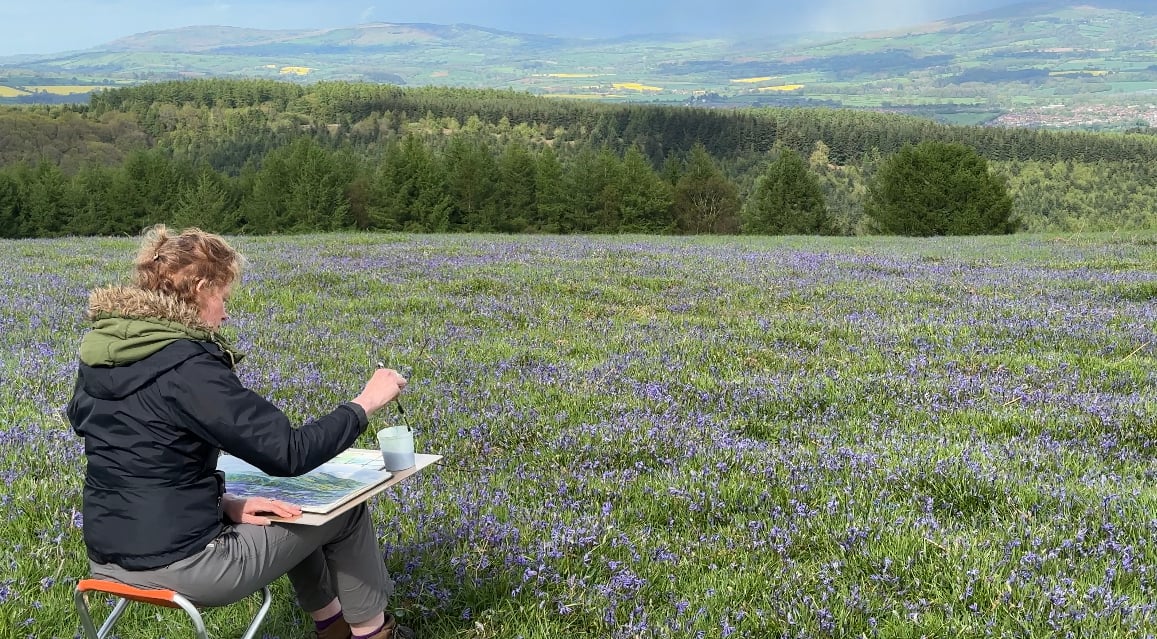 Secure your place on a day of sketching and painting tuition with Shelly in Mortimer Forest, Shropshire.
Take in the delights of the bluebell meadows in this wonderful natural spectacle, learn how to sketch wild flowers and then capture a wider watercolour landscape under Shelly's guidance. Enjoy the fantastic vistas and wildlife of this location as skylarks sing overhead and we look out for shy roe and fallow deer.
The tuition will run from 10am until 4pm, Shelly will guide the group through sketch beginnings to painting a full watercolour landscape scene. The course is suitable for beginners and improvers.
9.15am - Meet at the start point on the sketching day at the Forestry commission carpark (free parking) for a walk to the painting location.
10am start painting tuition.
1pm break for packed lunch (students must bring all of their own food and drinks)
1.45pm - 4pm Continuation of painting tuition
4pm return to the car park area
*Please Note...*
- It is a steep uphill walk to the painting location up a dirt track for around 1 mile, all participants must be able to carry all their own equipment, food, drinks and painting/sketching kit as well as a small stool (if required) - there is no vehicular access to the painting site.
-Due to the unpredictability of nature the bluebells may or may not be present at the site at the time of the course. Whilst the course is aimed to catch the flowers at their height of blooming, changes in weather etc could cause them to flower at an earlier/later time. In any event we will still be able to paint the incredible vistas and other botanical delights, from this location.
- The course will proceed in all weather - unless the met office advises a severe weather warning - students will be expected to pack sun hat/sun cream or rain gear/ umbrellas to protect themselves and their artwork from getting wet etc. Please check the forecast in advance and be prepared to face any British weather!
-Students will need to bring all of their own materials but a suggested materials list will be circulated to all participants a few weeks before the course start date.
-There are no established toilet facilities at the carpark or the painting location - participants must be comfortable with wilderness bathroom use and are expected to follow 'leave no trace' principles throughout the duration of the course.